Our Breeding Philosophy
Touchstone's goal to breed horses which have tremendous athletic ability without compromising conformation or riding characteristics is driven by the fundamental principles of disposition first, athletic ability second and conformation third.
In other words if you can't ride the horse, the rest no longer matters; if it cannot do the job looks don't count, and if the conformation is not there it will not stay sound. Within this context we select for horses of spectacular beauty, outstanding performance and impeccable ride-ability. We hope the results speak for themselves.
Breeding History
Beginning in 1973, Touchstone has built four generations of warmblood mares through selective line breeding with Hanoverian, Oldenburg and Dutch stallions. Concentrating on the "A" line the program has used this bloodline every second generation.
---
Abrupt,  1964-1988
The foundation sire was Abrupt (view profile) a direct son of the line founding stallion Abglanz (view pedigree), perhaps the most influential stallion of modern times in the Hanoverian breed.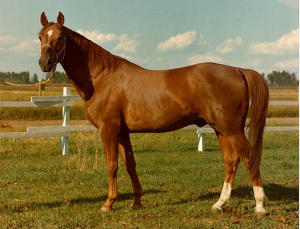 Abrupt spent his entire breeding career in Canada, from 1967 to 1988, producing excellent performance horses. His successes include six open jumpers, one CET three-day event horse and several competitive dressage and hunter horses. Touchstone's mare herd is based on this legacy.
---
Arkansas 1978 – 2002
In the mid-1980's Touchstone bought shares in the Gotthard grandson, Godewind. The Godewind horses developed a reputation for power and correctness and  when combined with the superior temperament of the Abrupt mares, these horses proved to be very athletic with excellent legs and substance and very rideable.
---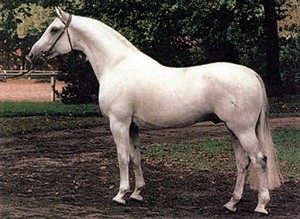 In 1988 Arkansas (view profile) was imported from the State Stud in Celle, Germany. Once again an Abglanz line stallion with superior disposition, Arkansas also possessed a tremendous neck and top line. This, coupled with good jumping technique and smooth gaits, resulted in many foal futurity and mare show champions and several dressage champions, as well as successful young jumpers and hunters. His daughters from Godewind and Abrupt mares were the backbone of the Touchstone mare herd at the turn of the century.
---
Bajazzo 1979-2006
The Oldenburg Bajazzo (view profile) by Barsoi XX out of a Grande line mare was acquired in 1993. The combination of thoroughbred and the top Hanoverian performance line has proved to be fortuitous. The Bajazzo offspring are excellent movers with superior jumping ability, refined good looks and wonderful trainability.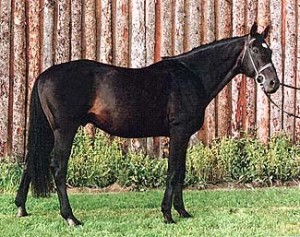 ---
Beach Boy 1983 – 2015

Beach Boy imported in 2001 from Sweden where he was ranked in the top ten for both gaits and jumping ability Beach Boy (view profile) was an ideal stallion to use on the Touchstone mares. He continued our policy of combining both jumping ability and good gaits and brought additional elegance and type.
---
Beau Soleil  1997- 2018
Beau Soleil, one of three licensed sons, was 1999 licensing champion and in 2000 passed the first CWHBA  Stallion Performance Test (SPT). He produces wonderful heads and necks and foals from lighter mares are showing good substance and size. A Canadian bred stallion, his pedigree proves beyond doubt the top bloodlines present in our breeding stock. The famous Hanoverian G line of Goldfisch II is represented on both sides; once through Grande and once through Gotthard. The legendary blood of Abglanz is also found through his maternal grandsire Abrupt. His direct sire, Bajazzo, is sire of three licensed stallions and has been leading money sire twice at the Fall Breeders Classic Sale.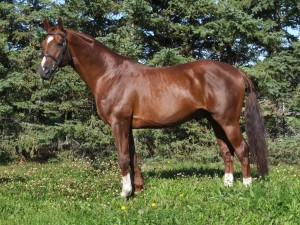 ---
 Excalibur 1999
Excalibur (view profile) is an elegant and refined  stallion with good gaits and superlative jumping style and scope (9 for jumping). He is sired by the Champion Hanoverian Stallion Escudo I, whose performance and offspring in Germany are creating a sensation in the jumper ring. In 2001 Escudo I's offspring were first and second in the Hanoverian Championships for Four-year-old jumpers, high selling horse in their Summer Auction and he again produced several licensed stallions. Excalibur's dam, descended from the legendary Furioso II, is half-sister to Zanzibar II 1998 CWHBA licensing champion.
We are very proud of this exceptional  Canadian-bred stallion. In addition to his spectacular jumping talent he possesses very exciting gaits which have been apparent since he was a weanling when he was overall Champion in the Northern Alberta open foal class.
---
Our goal is to produce horses which have tremendous athletic ability without compromising conformation or riding characteristics. An example of this is the young horse Zanzibar II. In 1998 he was CWHBA licensing champion, at which time Dr. Lehmann, senior judge from Germany, commented that he would easily find a home in the German stud books. In 2000 he completed the SPT in Olds and received the highest overall test ride scores; two 9s from the dressage riders and two 8s from the jumping riders.
In addition to these stallions, Touchstone has been using frozen semen from selected international sires such as Zeoliet,  Laptop, Rotspon, Indoctro, Espri, Escudo I, Calvados and Aram, and breeding a few mares to some quality Canadian stallions such as Kumano, Furioso, Oxford, Mister A and Fantast.
Stud Fees
Charmeur
$900
includes $250 non refundable Booking Fee

Live Foal Guarantee. Transported Semen available.

Excalibur
$1,250
includes $250 non refundable Booking Fee

Live Foal Guarantee. Transported Semen available.

No collection fees!
Breeding Fees
Breeding fee per mare for frozen semen

$600 plus GST

($250 breeding 

$350 pregnancy bonus)

Fee for Maiden and very difficult mares

$150 plus GST

Fee for Stallion collection

$125 plus GST
Our Horse Care Rates
Stabling

$10 per day

$250 per month

$275 per month separate turnout

Outside Board

$7 per day

$10 per day mare & foal

$175 per month

$200 per month private paddock